Regular price
Sale price
$10.00 USD
Unit price
per
Sale
Sold out
We have two varieties of shave soaps. Both are unscented and hunter friendly as there is no added scent.
Each variety has two sizes. Eco friendly packaging. One is vegan.
One is a puck, roughly 3 inches across with straight sides and fits in our stainless shave cup or your mug or dish.
The other is what we call a taper, it is more "cupcake" shaped as the sides taper in, roughly 2.5 inches on the top and 2 inches at he bottom and fits in our shave set bowl or your small tapered cup or dish. 
Dual Lye with Calendula Tea
Billowy, and thick to very thick lather, similar to shaving cream texture, won't dry the skin, vegan. 
This soap is a different texture and look from regular bar soaps. It is slightly lighter as well. It could be used to wash with if so desired. 
Calendula is a type of marigold that is more daisy like than the usual. It is excellent for skin and it lends a yellow color to the soap. 
Ingredients: stearic acid, coconut oil, olive oil, castor oil, sodium hydroxide, calendula tea. 
Bentonite Clay with Lard
Generous rich and silky, bubbly, medium to thick lather, that also does not dry the skin. 
This soap is very much a regular soap, you could use it to wash with as well. 
Bentonite clay is good for oily skin, absorbing excess oils without drying. It lends a gray hue to this shave soap.
Ingredients: olive oil, coconut oil, sunflower oil, castor oil, lard, cocoa butter, sodium hydroxide, distilled water
To use with a shave brush- either version
Pour warm to hot tapwater into the vessel holding your soap. (mug, small dish, shave set, tin cup). Allow to sit 2 minutes.
Slowly pour the water from the vessel onto your shaving brush, rotating the brush to get all the goodness in that you can.
Swirl the wet brush around on the surface of the soap in a circular motion, on the soap first then the side of the vessel. 
Add more water if needed, until the thickness and amount of foam desired is reached. 
Slather on! 
To use alone- either version
Rub in gentle circles on desired area or between wet palms and then to desired area.
No sulfates, no phthalates, no SLS, no dyes, no mica, no aloe, allergy conscious, and always unscented.
Caution: if irritation occurs discontinue use of this product. Not responsible for adverse reactions to the ingredients of this product. To prolong use of this product keep bar dry when not in use.
View full details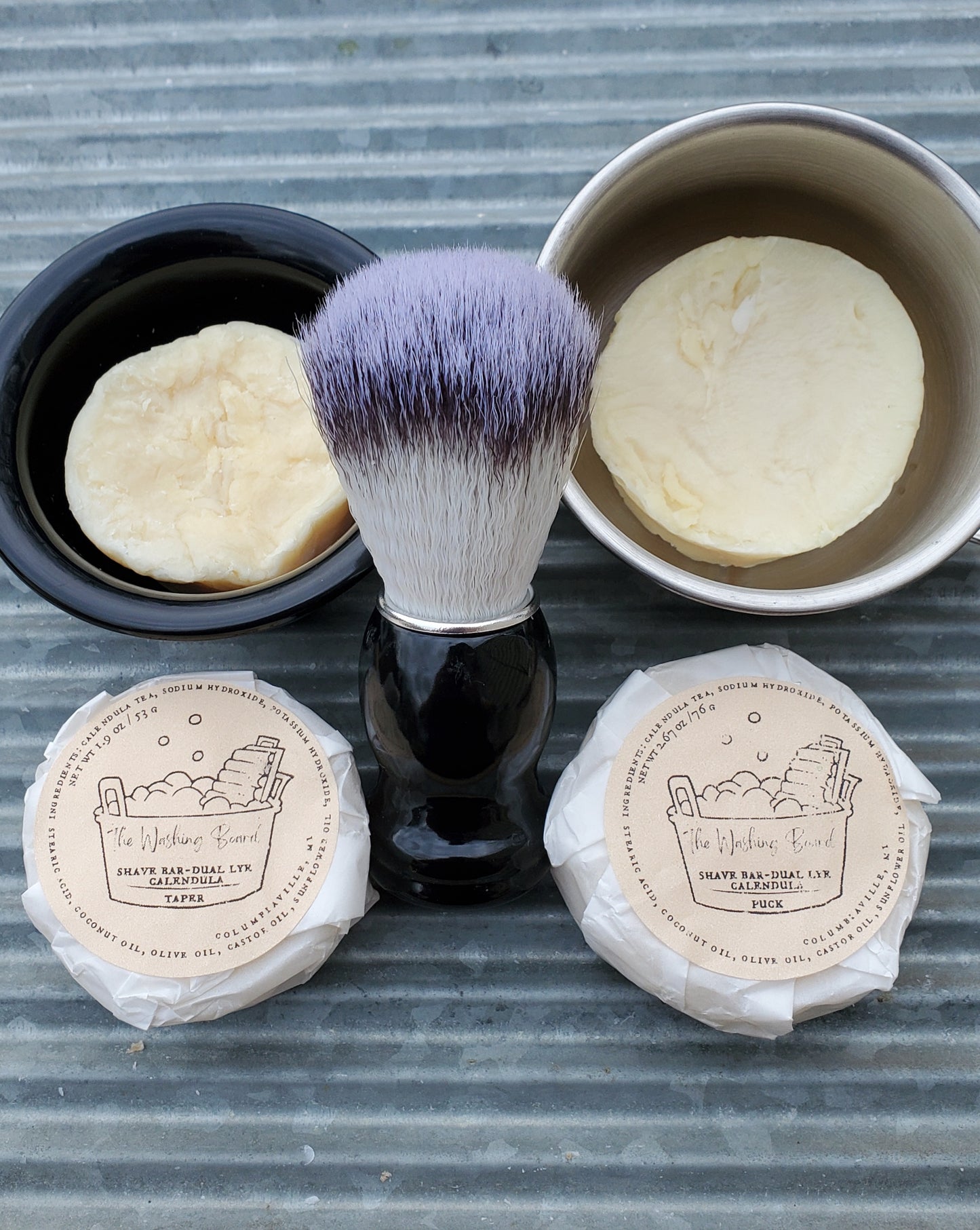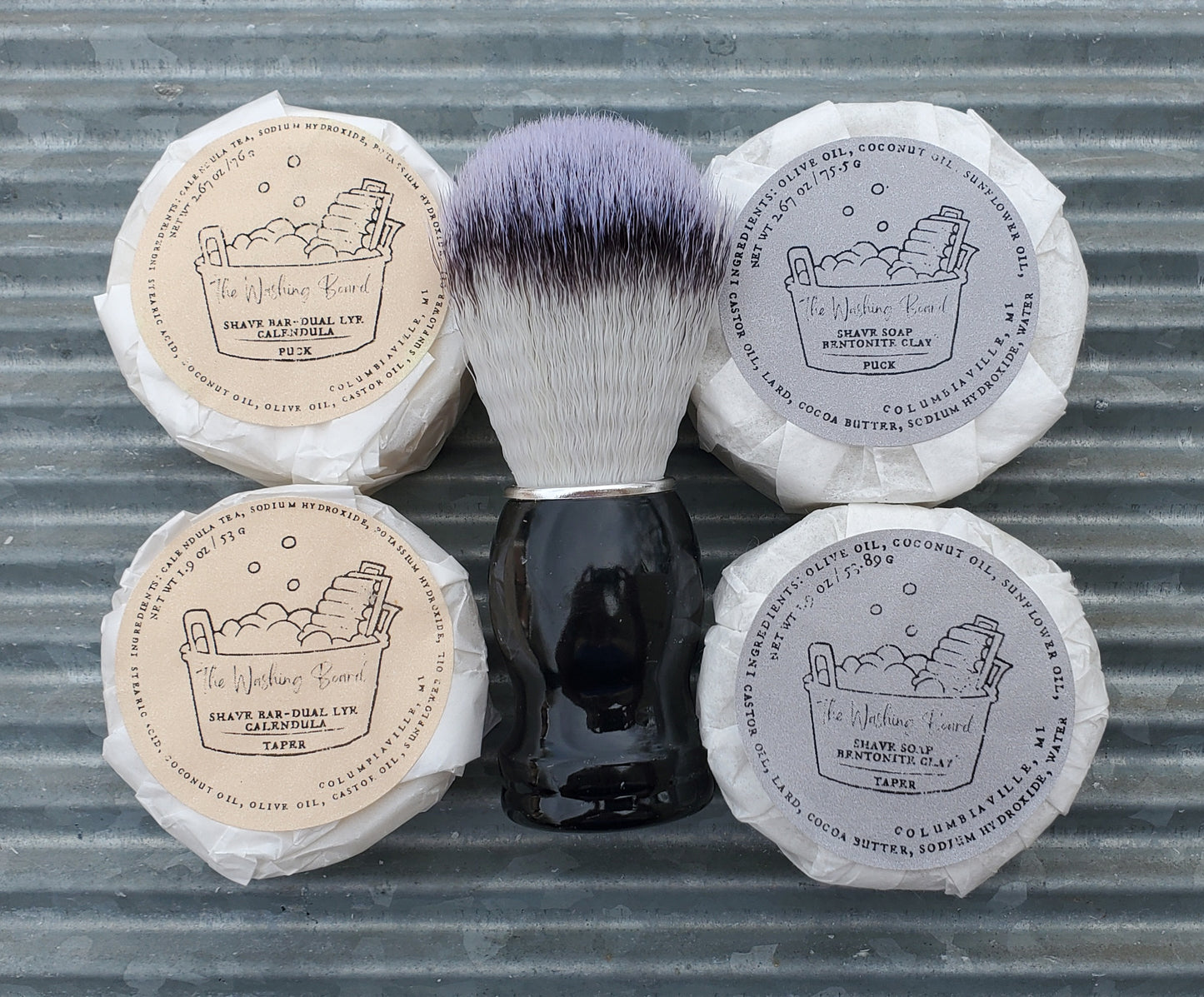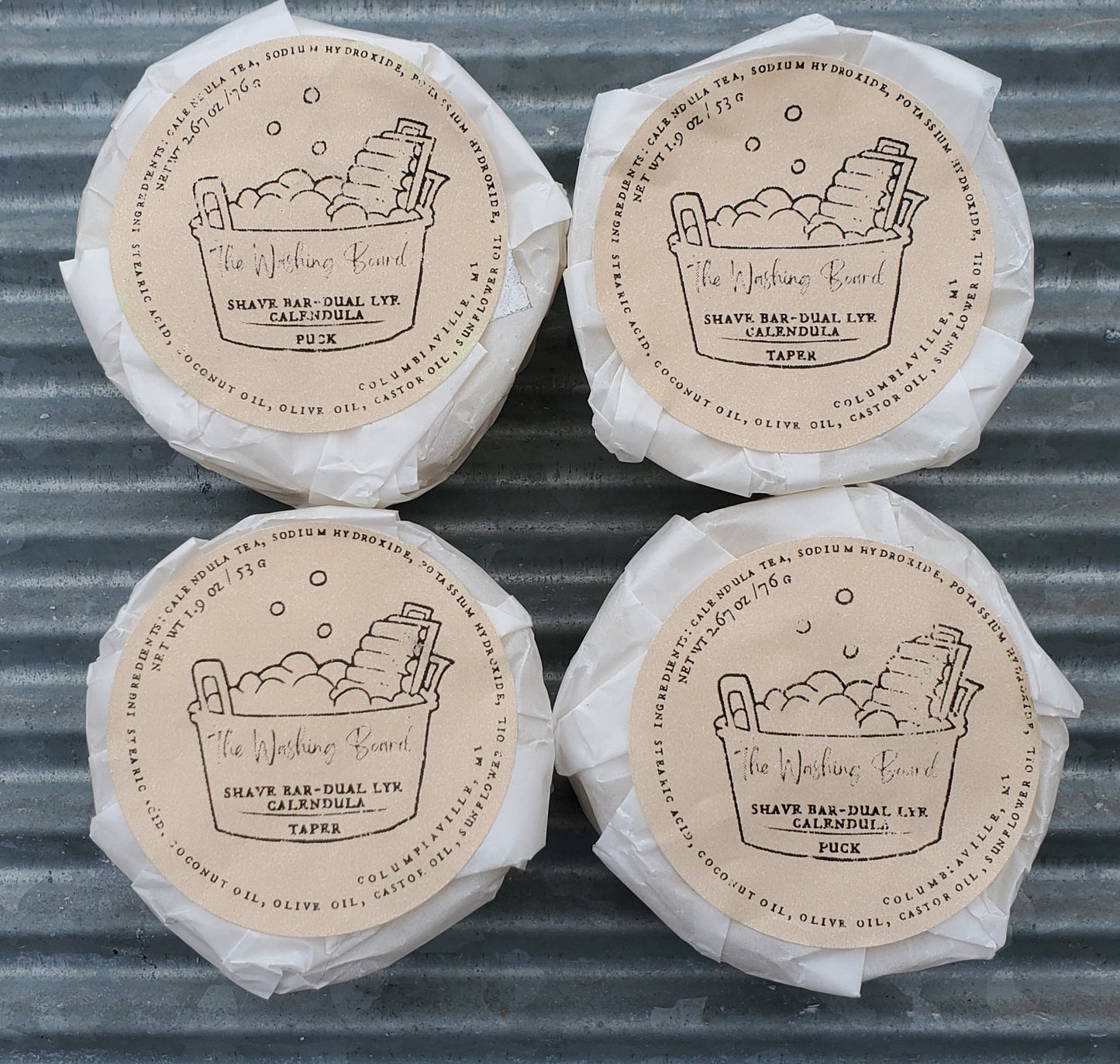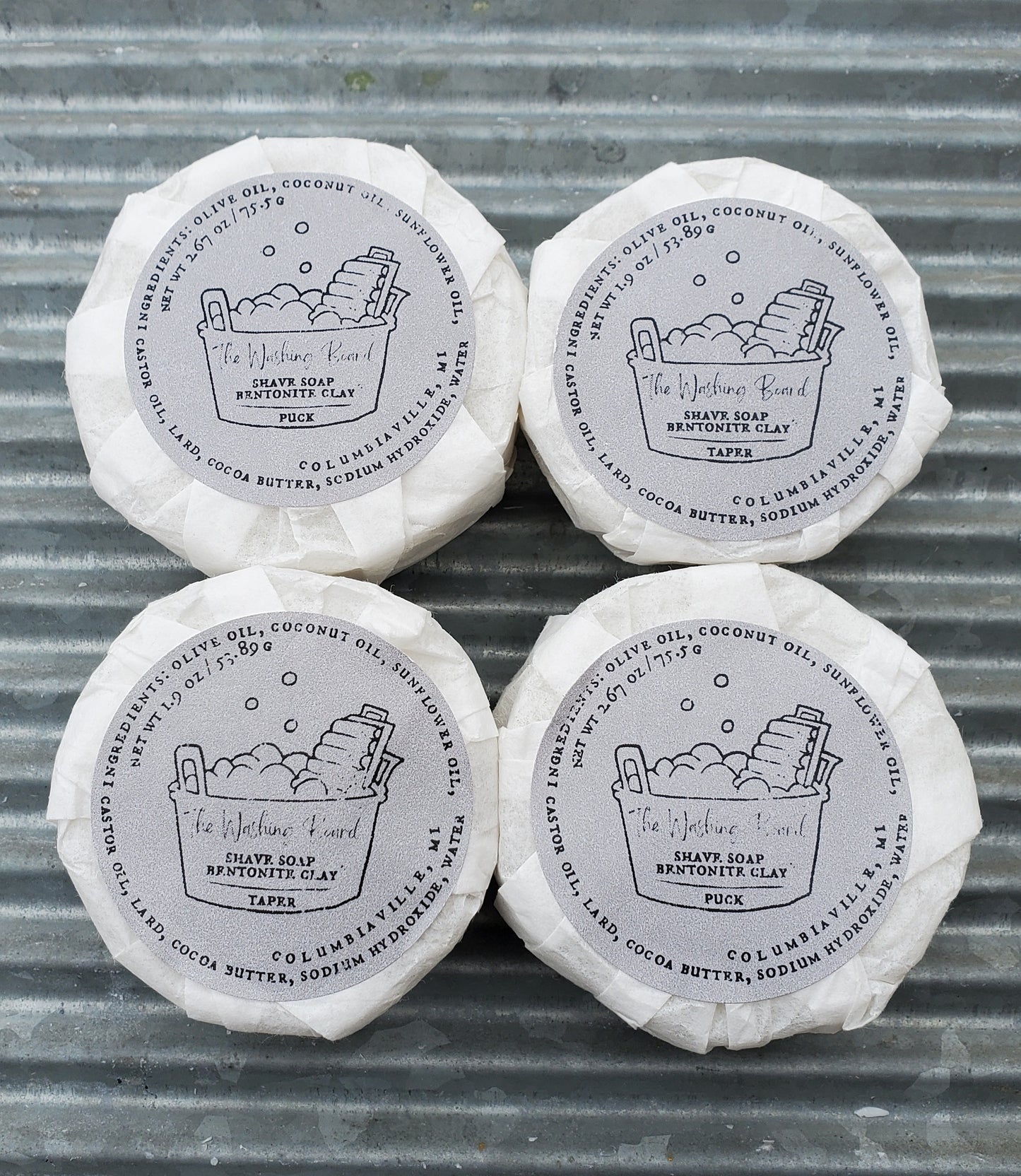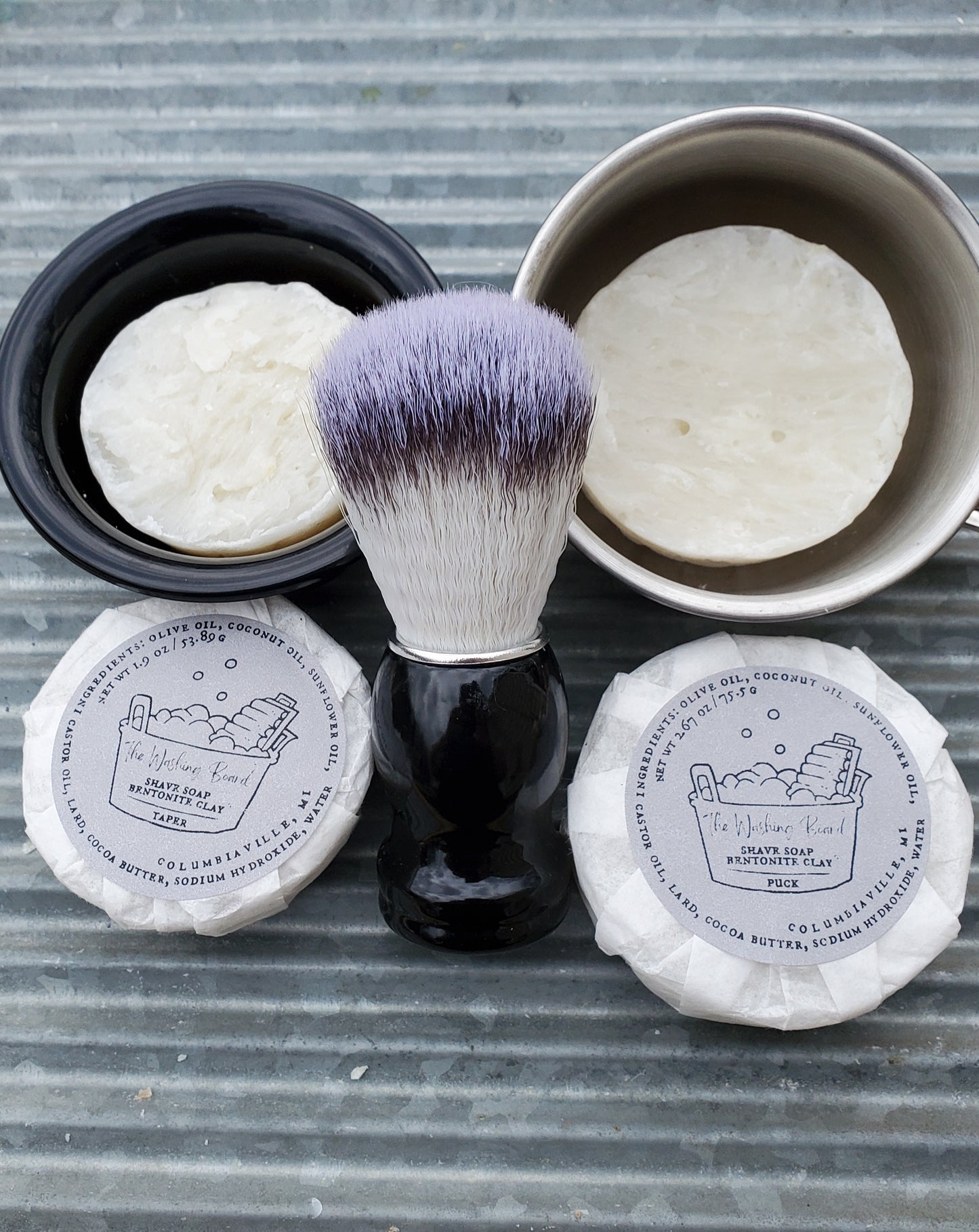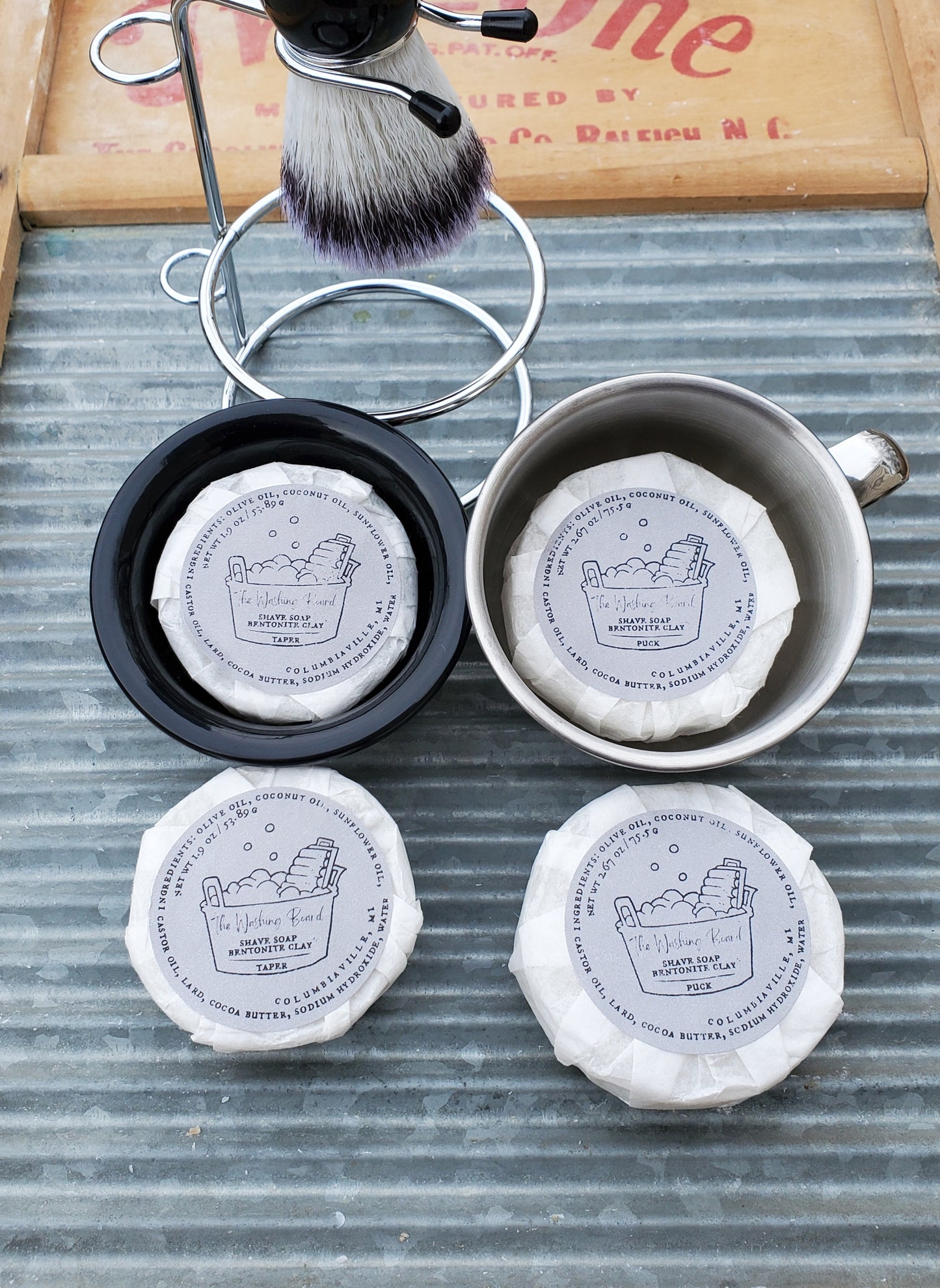 Shipping

Free shipping in the contiguous US on orders over $100

Exchanges

Unfortunately we do not accept returns. If you are unsatistfied with your product, please contact info@thewashingboard.com and we'll be happy to discuss your concerns.